Our core values underscore everything we do.
Our team is the core driving force in creating value for clients. The knowledge and experience they add to our team is invaluable. Our core values underscore how we work with you, support your goals and create a positive working dynamic.
Empower Others
Transformation in an organization is fueled by its people. Our approach is centered on enabling your people with the skills and confidence they need to execute.
Deliver on Commitments
We strongly believe in doing what was promised, even if it's the harder road to take.
Exercise Good Judgement
We adopt our client's values and mission during the partnership, and always strive to exercise good judgement in our actions and relationships.
Give Empathy Always
We treat our clients like we want to be treated (Golden Rule), which means showing empathy when situations arise that change the intended results or outcome.
We share your mission to get it done.
We go beyond transferring skills and knowledge, and teach people how to think and ask the right questions to be successful.
We take an outside-in approach to our partnerships with clients. This means that we begin by listening to your challenges and needs, then collaboratively identifying solutions that bring value to your organization. We recognize that a one-size-fits-all approach does not consider the unique values, mission, and circumstances of each organization. 
Our four-step approach identifies the right solution for your unique challenges.
While we tailor our approach and services to meet the unique needs of your organization, we follow a standard method for understanding your challenges and identifying the right solutions that will empower transformation and ignite growth within your organization.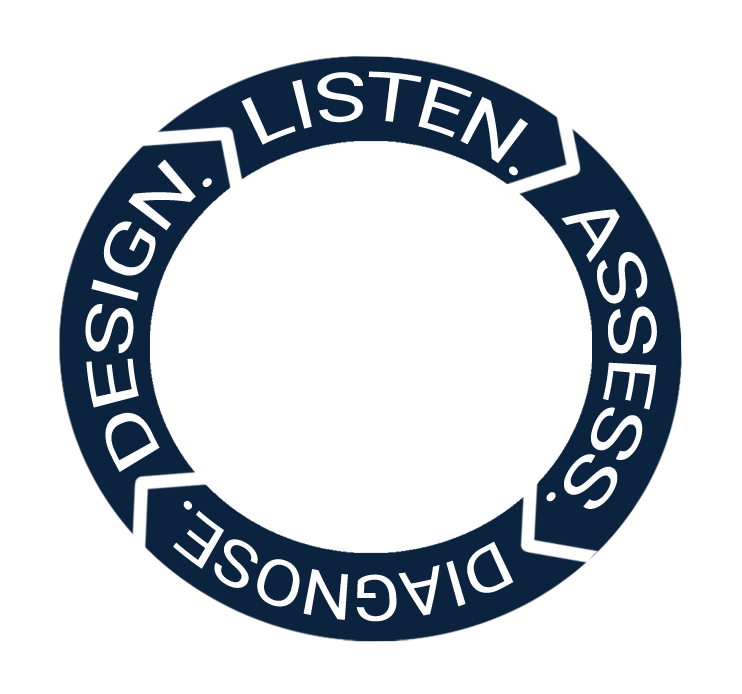 Listen  
Understanding your organization's strategy and goals – transformation efforts are more successful when they are aligned to the higher-level strategy and goals of the business. We start here to frame the context of a partnership.  
Assess
Assess the current state – whether you are in the midst of your transformation journey, or just starting out, we take the pulse of activities being undertaken to use as building blocks.  
Diagnose
Diagnose opportunities to empower the transformation and ignite growth – applying structured methodologies such as Lean, Six Sigma, change management, and performance management, we partner with you to identify the right combination of solutions to meet your needs.
Design
Design and implement the future state – balancing workshops, advisory services, and content, we design and execute a plan to empower your leaders, teams, and ignite growth. Our partnership doesn't end at creating a plan but continues through executing that plan alongside you.