If your organization is getting started with continuous improvement or has been on its journey for the past several years, a common success factor remains—valid project selection (see last month's blog for more success factors and how to assess your progress). There are typically two ways continuous improvement projects are selected—top-down and bottom-up.
Top-down Project Selection
Top-down project selection means that leaders are incorporating continuous improvement in their strategic planning activities, and they identify improvement opportunities based on strategic objectives. For example, in a learning institution, strategic planning includes doing a SWOT (Strengths, Weaknesses, Opportunities, Threats) analysis with the board, administration, and staff. One of the weaknesses identified is declining student enrollment, which in turn is defined as a strategic objective for the upcoming year as: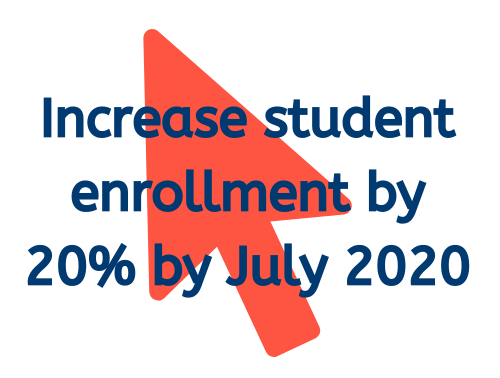 Based on this enterprise-wide objective, several initiatives are started:
Enhance teacher training and increase teacher retention

Strengthen relationships with students, families, and the community

Drive consistency in school communications

Identify new and improve the effectiveness of marketing efforts 
Further analysis of student and parent (customer) feedback shows that communication is a crucial concern, and a process improvement project is launched to reduce the number of communications sent to students and families by 40%.
This type of top-down project selection usually occurs in organizations that are in the midst of or mature in their continuous improvement journey.
Bottom-up Project Selection
In this style of project selection, individuals in an organization recognize a need for improvement in their work area and self-select an improvement project to lead. In a hospital pharmacy, a supervisor or staff member notices that some medications are expiring and being discarded frequently, while other medicines are consistently running out. After further discussions with the head of the pharmacy and other hospital leaders, a process improvement project is launched to reduce the inventory of expired/expiring medications by 30% and maintain consistent stock levels of frequently used medicines based on usage.
This method of project selection typically occurs early in a continuous improvement journey when a top-down approach has not been fully established.
Which Approach is Best?
Here is a comparison of the advantages and disadvantages of each approach: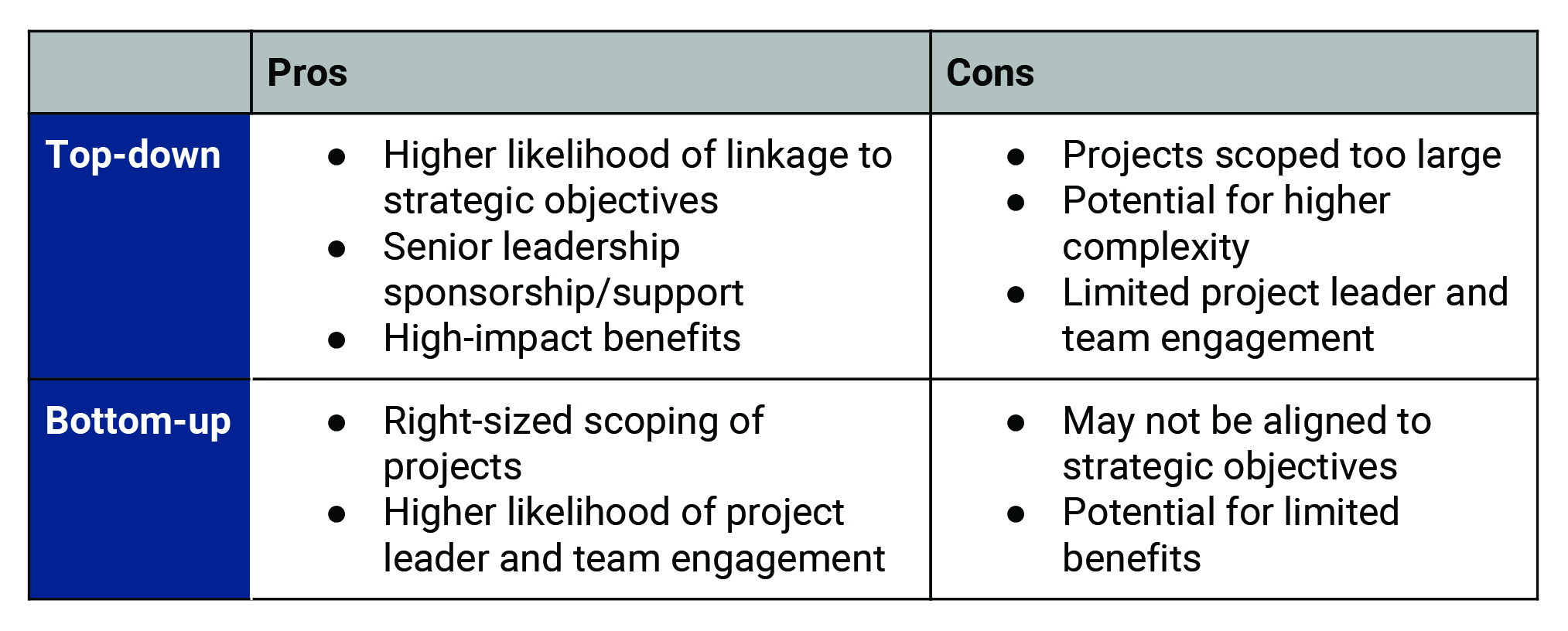 As you can see, both approaches have their benefits, but also come with potential pitfalls. Consider where your organization is in its path to transformation to determine which approach best fits your needs. It may be that a combination of both approaches is appropriate, as long as there is coordination amongst the various project selection activities. 
An Alternative Approach
In some cases, neither a top-down or bottom-up approach may be utilized, but other factors drive how projects are identified. Here are a few scenarios where applying a different approach is useful: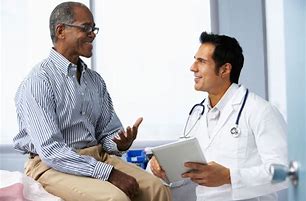 In a healthcare organization, the time that patients must wait to receive an appointment is an important performance metric. A few years ago, a hospital system set a goal to reduce the time to schedule appointments to 30 days or less—several improvement projects were carried out across the hospital system to achieve this goal. Four years later, this same hospital system has adjusted its goal to schedule patients in 20 days or less based on patient feedback and industry standards. This new, more aggressive performance target has launched another round of improvement projects to reassess the scheduling processes across the system. The initial projects were selected through the top-down manner. However, the next round of projects did not have to go through the same vetting process.

In a service center environment, the amount of time it takes to complete one transaction or call, including a customer's hold time, talk time, and the representative's after-call work, or Average Handle Time (AHT), is an important performance metric. This number will lead to improved agent efficiency and enhance customer satisfaction. In a multi-location service center, improvement projects are commonly used to reduce AHT, improve customer service, and reduce the cost per call. Service centers in the US have an overall average turnover rate of 30–45%, which makes sustainable improvement difficult. Now, a few years after those initial projects were completed, the multi-location service center is launching another round of projects to reduce AHT, improve customer service, and reduce the cost per call. Initial AHT reduction projects were identified through bottom-up approaches, however, more recent projects are being identified through ongoing monitoring and sustainment activities.
Common Criteria for Improvement Projects:
Regardless of which approach you adopt to select improvement projects, consider these common criteria to increase your chances of success:
There is no known or committed solution in advance

The project is linked to key business objectives

The problem is tied to a key business process and making it better, faster, and/or lower in cost

There are clearly defined project goals and measures

There is a strong business case to address the problem now

Data from the key business process is available or can be collected 

The project team has the right skills, resources, and leadership support to succeed

Optional:

The problem has re-occurred after being previously addressed
Boost your project results with project coaching support from our expert team.